The week of your dreams can come true!
January 10-17th 2022, it´s time to experience the Leadership & Legacy retreat in amazing Paradise Big Island of Hawai´i!
We are a small exclusive gruup of maximum 8 people sharing a big house Ohana (family) style. Together we will discover Big Island of Hawai´i, the newest and biggest of the islands. Here you find black lava deserts, beautiful beaches, coral reefs, rainforests, the snow covered mountain top Mauna Kea and an infinate view over the ocean horizon.
We will actively spend time with Mother Nature and the five elements earth, fire, air, water and spirit. There will be time for adventure and time for stillness and contemplation.
Beyond the creative powers of this fertile landscape we will experience hiking, swimming, culture and coffetasting - we stay in the center of one of the the most exclusive coffe areas in the world . You will live the spirit of Aloha, a deep loving spirit that will empower your inner being, your soul.
Leadership & Legacy
The theme of the retreat is Leadership with focus on Self Leadership
By connecting to ourselves and our inner compass, you will enjoy
a Deeper Calm in challenging times
Find yourself in good company
Clarity in chaos
Clarifying your Core Values to ease decision making
We will actively work with personal development and transformation within the group, focusing on managing yourself, your relationships, your health and your profession.
From today, start being aware of what legacy you will leave for the future generations, those who are coming after us. How do you share your treasures of wisdom, stories and experiences?
Now expand the time backwards and include what legacy you carry from the ones who came before us. You are important in the chain of times.
Are you mature in life and your profession? Would you love more life in life? Then this retreat is for you!
This retreat is setup for you who would love to discover more about yourself, who love to feel vibrant and alive and to share your experience and knowledge with others.
This small exclusive group will have the opportunity to experience parts of the island that you migt not find as a tourist.
Physically, you need to be fit enough to walk slowly on medium/difficult trails for half an hour without resting. If you prefer more physical challenges, you can find it on the island but it is not mandatory in this retreat. During the retreat we will do some hiking/walking and a morning ritual with Tai Chi Chi Gung, slow healing movement for the whole body ang energy system. The challenge in this retreat is more of a spiritual and psycholigical character than a exercise retreat.


Once you get to Kona airport, everything is included!
Pickup at the airport for a 2 hours drive north, accommodation, food, activities and lots of love. We stay Ohana (familj) style sharing a big house in a magnificent environment.
Bonus
You will be included in the members´ site
where we share information, connect with each other on Zoom before we leave and present all the information you need to make this
THE Most Amazing Adventure of Your Life!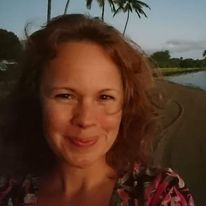 I am Malin Åhman. I would love to share with you the amazing places and energies I have experienced at my favourite place on earth, Hawai´i.
I will be the coordinator of this retreat and make sure we have the best acommodation, meals, around the island transportation, activities etc. The only thing you need to do is
sign up for the retreat
in time - secure your spot and arrange the payment
Arrive in Kona airport and let go!
After the retreat you can if you wish do some island hopping or continue your retreat somewhere, but prapare for a few days to digest/come back to everyday life before getting too busy.
About Malin Åhman
Malin Åhman is a Civil Engineer and a Real Estate Economist. She has worked as a manager and leader for the last 20 years within large companies, smaller companies and within government controlled businesses.
The last years she has created her own businesses as well as supporting others as part of their company strategic advisory boards.
She is involved with regional growth in several companies and as Vice President of the board of the Mid Sweden Chamber of Commerce.
Growing up on a small old-fashioned farm, she has broken cultural, social and gender boundaries by both getting a Master of Science degree at the Royal Institute of Technology and by creating a lifestyle full of life.
Malin is the author of "Conscious Coworkers" and the "PILGRIM" trilogy.
More from 2HappyHearts and Malin Åhman: